RegTelligence®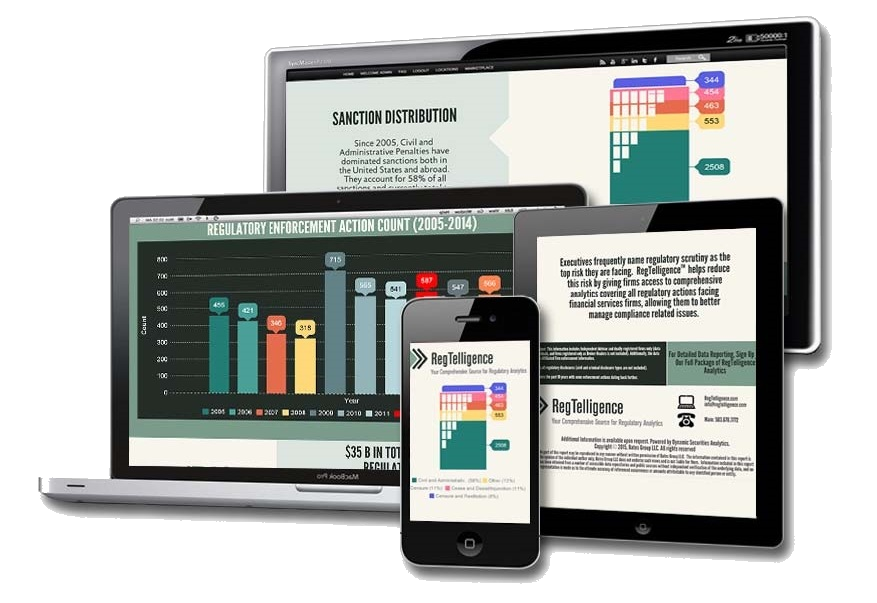 RegTelligence® is a comprehensive database of all regulatory enforcement actions developed by Bates Group LLC, the nation's leading provider of financial services expertise. RegTelligence® provides data solutions for those seeking to analyze all regulatory actions, and associated sanctions and penalties, in a simple, comprehensive dataset. RegTelligence® combines robust data (both current and historical) with smart tagging designed to facilitate easy analysis of enforcement activity by product, issue, regulator, firm, and many other possible criteria. Furthermore, RegTelligence® data allows users such as financial services attorneys, compliance officers and risk professionals to design and create their own analyses, providing visibility across the U.S. and international regulatory landscape. Our data is a crucial component of assessing and managing your regulatory risk.
RegTelligence® data includes:
Case Resolution Type (AWC, Injunction, Censure, etc.)
Penalty Amount
Product/Issue (Multiple drilldown levels available)
Allegation Summary
RegTelligence® data can be used to:
Gain insight into regulatory actions and sanctions
Educate clients and inform strategies
Identify regulatory trends
Benchmark against peers
Perform due diligence for financial service firms
Create compliance analytics with ease
Learn more about how you can gain access to this powerful database at www.regtelligence.com.