Bates News - 09-26-17
Bates Group Introduces Arbitrator Evaluator™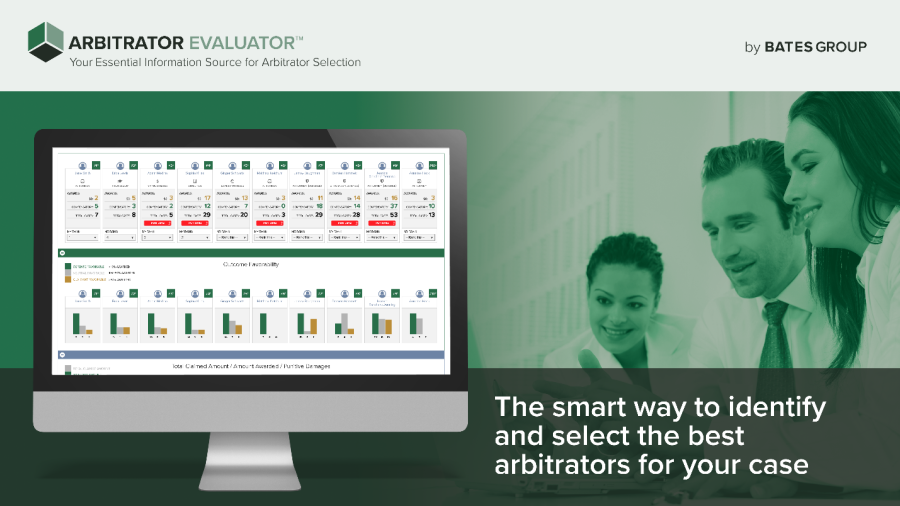 Bates Group today introduced Arbitrator Evaluator™ — an essential information source and analytical tool to streamline and enhance the time-consuming process of identifying, ranking, and selecting arbitrators.
Arbitrator Evaluator saves valuable research time and supports better decision-making throughout the arbitrator selection process. It summarizes arbitrator disclosure reports into one easy-to-read document, and provides a quantitative ranking based on each arbitrator's prior decisions, flagging key analysis factors, including punitive awards, for the final qualitative review.
Arbitrator Evaluator is powered by 30 years of Securities Arbitration Commentator, Inc. (SAC) awards data and FINRA arbitration decisions. "Countless hours of time are dedicated to the critical process of researching and analyzing data in the selection of arbitrators — and for good reason. The strategic selection of arbitrators could very well prove to be the most direct influence on the outcome of a case," said Rick Ryder, President, SAC.
"Utilizing SAC awards data provides a significant advantage to the process. Doing so with Arbitrator Evaluator further leverages that advantage — and dramatically drives the entire decision-making process forward," said Julie Johnstone, Managing Director of Bates Group's Retail Securities Litigation Practice.
Arbitrator Evaluator's powerful analytical reports include: Candidate Evaluation Ranking, a quantitative ranking of arbitrators based on previous award history and damages awarded; Outcome Favorability, detail of prior awards ranked by outcome favorability for each arbitrator; and Total Awards, easy-to-understand graphics that reveal total awards, claimed damages, and punitive damages granted.
Jennifer Stout, President/CEO, Bates Group, said the Arbitrator Evaluator "represents a brand new generation of intelligent analytics in arbitrator selection. Moreover, in addition to enabling users to identify and select the best panel for their cases, Arbitrator Evaluator also complements Bates Group's suite of services, including damages analysis, expert testimony and consulting, and reinforces our ongoing commitment to supporting our clients' success" Stout said.
For more information about Arbitrator Evaluator, visit www.arbitratorevaluator.com, email us at arbitratorevaluator@batesgroup.com, or call 503.670.7772.
About Bates Group
Bates Group has been a trusted partner to our financial services clients and their counsel for over 30 years, delivering superior quality and results on a cost-effective basis. Voted a Best Securities Litigation Consulting Firm by readers of the New York Law Journal, Bates Group provides end-to-end solutions on legal, regulatory, and compliance matters for financial services firms and their counsel. With a roster of over 100 financial industry and regulatory experts, Bates offers services in litigation consultation and testimony, regulatory and internal investigation matters, regulatory enforcement matters, AML solutions and staffing, compliance solutions, forensic accounting and fraud investigations, and damages consulting. For more information, visit www.batesgroup.com.