Events | 03-10-23
Bates is a Proud Sponsor of the SIFMA C&L 2023 Annual Seminar - Booth #516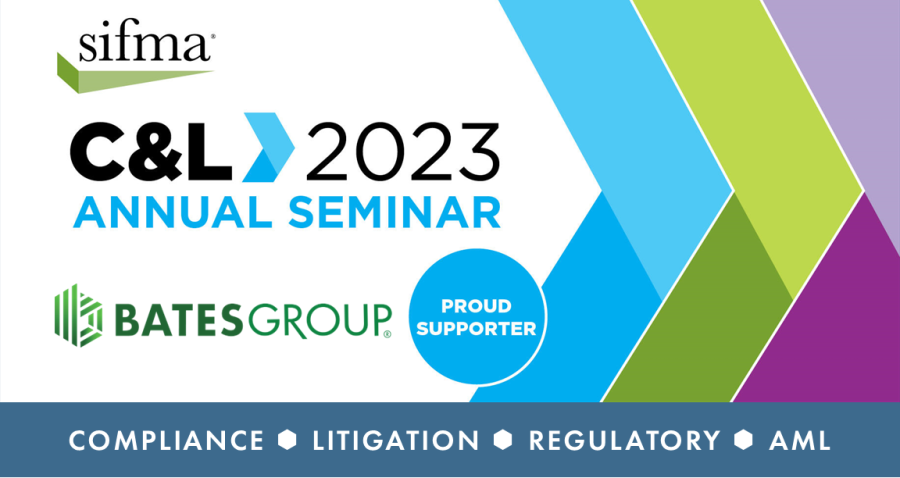 Bates is proud to be back in person as a returning sponsor of the SIFMA C&L 2023 Annual Seminar, March 12-15 at the Marriott Marquis San Diego Marina. Hosted by the SIFMA C&L Society, hear industry leaders' perspectives on the current regulatory and enforcement environments, lessons learned thus far, and what they're seeing on the horizon.
Visit us at booth #516 to reconnect with Bates colleagues and to learn about our latest products and services. Speak with our representatives to find out what they are seeing and hearing and how our team of experts can help you with your litigation, regulatory, and compliance matters, including support to address 2023 regulatory priorities, such as:
Reg BI & Form CRS
SEC New Marketing Rule (Compliance, Individual and Company Training)
Supervision, Policies & Procedures, including Replication/ Validation of Alert Systems
Big Data analysis of specific products (mutual funds), actors (FA theft), or activities (market manipulation)
BD, RIA, Hybrid, Digital Assets & Cryptocurrency AML, Compliance and Litigation, and more.
While you're there, don't forget to pick up helpful materials (including articles, white papers, and other resources), and take home some fun giveaways.
We look forward to connecting with you at the show!
Conference Details and Registration
We are Here to Help You Succeed:
Bates Group is a trusted partner to financial services clients, counsel, and non-banking financial institutions, delivering leading industry expertise, knowledge, and data-driven solutions for legal, regulatory, and compliance matters. With a full professional staff and a network of over 175 independent financial industry and regulatory compliance experts, Bates offers services in litigation consultation and testimony, regulatory enforcement and internal investigations, AML and compliance, state licensing, forensic accounting, damages, and big data consulting. Contact us today to learn more.