Bates Research - 03-20-14
Federal Reserve Policy Changes
On Wednesday of this week, the Federal Reserve Open Market Committee released its latest forecasts for the U.S. economy. Marking the beginning of Janet Yellen's term as Chair, the report contained a number of interesting changes to the baseline forecasts made by voting members, as well as guidance on the likely shape of future interest rate changes.
Forecasts for future changes in interest rate levels seem to concentrate on 2015; of the 16 voting members, 13 of them identified 2015 as the most appropriate time for a rate increase, with one member singling out 2014, and two choosing 2016. Each member also forecasts where they believe interest rates will finish in each of the next three years, and the relatively high dispersion of the results paints an interesting picture (see Chart below). While 2014 appears fairly docile, estimates for 2015 range from 0.25% all the way up to 3.0%, while 2016 extends from 0.75% to 4.25%. Obviously, these differences reflect differences in opinion on where the U.S. economy will be at each year's end.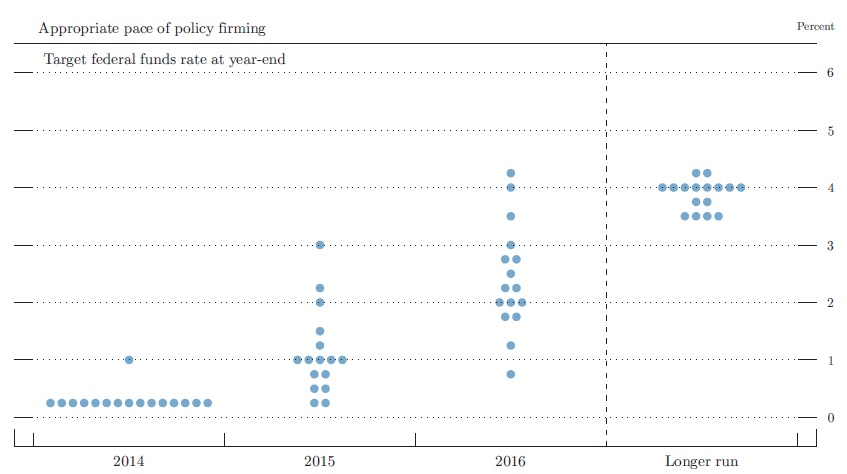 Beginning in April 2014, the Federal Reserve will once again curtail the pace of its asset purchase program. In December 2013, they reduced the amount of open market purchases to $75 billion a month, which we covered in this post from December 20. That was a $10 billion reduction from prior levels, which was repeated again on January 29, when purchases were reduced to $65 billion. This latest announcement includes another $10 billion reduction, down to $55 billion ($25 billion in agency mortgage-backed securities and $30 billion in Treasuries). These actions are consistent with previous Fed guidance, namely that monetary policy would continue to tighten as we approach a 6.5% unemployment level (currently at 6.7%). This latest announcement uses the same language, indicating that rates will be left low for "a considerable time" after the asset purchase program ends. While reductions of $20 billion in three months may seem fast-paced, the Fed's balance sheet of total assets held stands at about $4.2 trillion dollars (see Chart below) making each month's purchases only about 1.3% of total assets. This is not to say that a reduction won't have an impact on financial markets, but merely to indicate how far the Federal Reserve has left to go in returning to pre-crisis/pre-Quantitive Easing asset levels.
With unemployment currently at 6.7%, the Fed has also introduced more qualitative factors into its analysis, which may give it some leeway in changing policy. As we have previously noted, this is probably a good thing, given the factors currently driving the rebound in unemployment numbers. The Fed was vague when describing the precise nature of what it will be examining, noting only that "This assessment will take into account a wide range of information, including measures of labor market conditions, indicators of inflation pressures and inflation expectations, and readings on financial developments".
This most recent release also changed the Fed's previous forecasts for the broader economy, with a range for 2014 GDP dropping from 2.8-3.2% in December to 2.8-3.0% in the latest forecast. Unemployment is forecast to drop more slowly -- 2014 was projected to hit 6.1-6.3% in the December forecast and now stands at 6.3-6.6%. Estimates for Core PCE inflation remained the same at 1.4-1.6%. On balance, the forward projections seem to indicate a stabilizing economy and labor market poised for growth, but derailed to some extent by adverse weather events in large parts of the country during the winter months.
Equities reacted negatively to the announcement, with the S&P 500 Index falling from approximately 1,870 to 1,850 after the announcement, before recovering to 1,860.77 at Wednesday's close. Thursday recovered those losses and more, with the Index finishing at 1,872.01. Overall, the Index is up 7.47% from its 2014 low on February 3rd.