Bates Research - 01-10-17
FINRA 2017 Priorities: Regulator Moves Away From "Culture Of Compliance"

By Alex Russell, Director - Institutional and Complex Litigation
Last week FINRA released its Regulatory and Examination Priorities Letter for 2017. The letter outlined fewer priorities than in previous years (see summary table below), and it gives a more tangible set of marching orders than firms have received in at least two years. We will examine the major themes of some of these changes below, rather than focusing on those aspects of the letter that are continuations of previous enforcement agendas.
Most notably—and in stark contrast to the 2016 and 2015 letters—this year's letter has been scrubbed of any mention of the "culture of compliance." We've blogged previously on this new initiative, and it was notably mentioned by Susan Axelrod, Executive Vice President of Regulatory Operations for FINRA, in her keynote address at SIFMA's 2016 New York Regional Conference in November of last year. It is remarkable that a cornerstone program in which the agency had invested a great deal of public attention has disappeared from view. This may signal a shift in FINRA priorities to more tangible areas for enforcement moving forward, perhaps in response to the feedback that many found the agency's requirements related to "culture" difficult to quantify, and therefore difficult to manage toward.
High-Risk Brokers – FINRA's Three-Part Outline
Of those more tangible priorities, the agency will be reviving its focus on high-risk and recidivist brokers, last mentioned in the 2015 priority letter. This year's priorities include a three-part outline for handling surveillance and enforcement in this area: first, FINRA has established a dedicated examination unit specifically to deal with "brokers who may post a high risk to investors;" second, FINRA will review supervisory procedures for hiring and/or retaining those brokers; third, FINRA will evaluate branch office inspection programs related to those supervisory procedures. Scrutiny will be expanded to include the use of unapproved email addresses, comments made on social media or other broadcast platforms, and registered representatives' own websites.
Use of Data to Surveil and Bring Enforcement Actions Against Firms
The larger shift for FINRA outlined in this year's priority letter concerns the use of data to surveil, monitor, and bring enforcement actions against member firms. As outlined in the preamble to this year's letter:
"In 2017, FINRA will also initiate electronic, off-site reviews to supplement our traditional on-site cycle examinations. This program will enable FINRA to review selected areas, typically those covered in this letter, without going on site to the firm. Instead, FINRA will make targeted and limited information requests to firms and then analyze responses off site. We will conduct these off-site exams only on a select group of firms that are not currently scheduled for a cycle exam in 2017."
FINRA seems to be following the example of the SEC, which has shifted its focus toward using data analytics to bring enforcement activity and has enjoyed a great deal of success with its big data programs. As shown in our summary table, FINRA also outlines several new areas this year that will be a direct byproduct of the focus on electronic review. The tick size pilot program, trading examinations (especially those involving the Order Audit Trail System), and the new fixed income surveillance program are all directly tied to this new prerogative designed to minimize on site examination.
Senior Investors, Complex Products
The focus on senior investors, which was highlighted in 2016 and 2015 as well, will continue as a priority in 2017. This year, the agency will focus on the suitability of recommendations to purchase complex products that may provide a higher yield than current rates on more vanilla securities. Pump-and-dump schemes involving microcap stocks will also be a priority, as the agency notes that the incidence of these schemes using "boiler room" tactics to target elder investors increased in both 2015 and 2016. We've blogged previously about elder and diminished-capacity investors (please see here, here, here, here, and the two part Elder Investor series here and here for example), and Bates expert Joe Thomas has been very involved in helping to shape the rulemaking in this highly important area. Joe recently provided comments for Ignites (the Financial Times' Mutual Fund Industry publication), and sat down with us for a Q&A concerning Elder Issues and the new and existing rules covering vulnerable investors. It's abundantly clear that regulators will continue to focus on the issues raised in this area, and this is underscored by FINRA's priorities, as well as the Elder Abuse Certification Program just announced for banks located in New York State.
Bates Research will continue to provide expert commentary on the new and legacy priorities outlined in the 2017 letter, as FINRA begins to bring new enforcement actions and as we gain more understanding of what the regulatory landscape in general will look like under President elect Trump.
FINRA Annual Examination Priorities 2017-2016-2015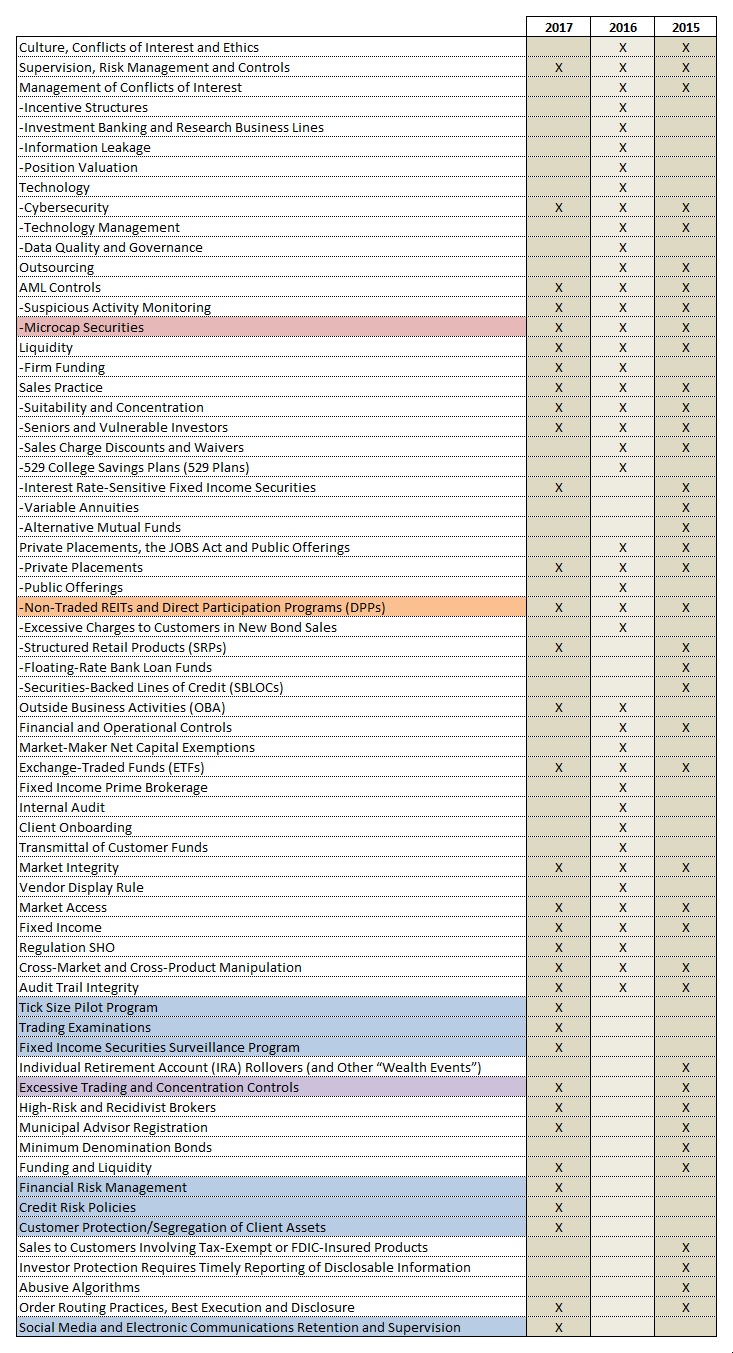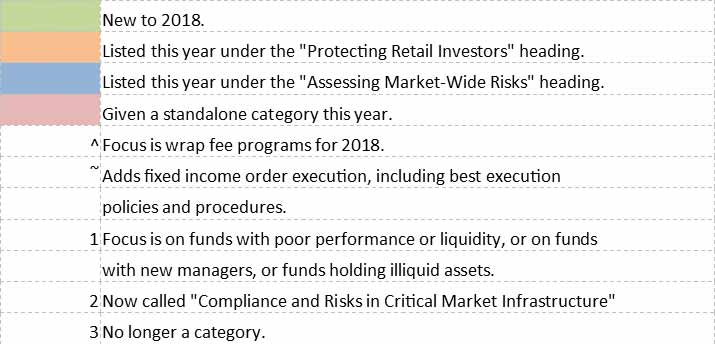 (source: Bates Research)