Bates Research - 01-26-17
Markets 2016: A Look Back

by Greg Kyle, Director
For many investors, 2016 was a roller coaster ride in the equity markets. The year started off on a surprisingly low note, with the broader market experiencing the worst opening week in history. The S&P 500 Index fell 6% in the first five days of trading, and by mid-February, the equity index had fallen 15%. However, the S&P 500 Index did manage to finish the year up 10%, despite the uncertainty created by the unexpected Brexit decision in the middle of the year and the tumultuous U.S. election in the latter part of 2016.
The gains were broad-based, with 10 of the 11 S&P 500 sectors posting gains. Health care was the loser, falling 4.4% for the year as drug prices came under pressure with increased congressional scrutiny and regulatory uncertainty. With interest rates rising during the year, the leveraged real estate sector barely managed to finish in the black, posting a gain of just 0.01% for the year. Energy was the big winner for the year, with the sector climbing 23.7% as oil prices rebounded nearly 45% in 2016 to close at $53.89. Financials were also winners, with the sector up 20.5% in the last quarter of the year, posting a gain of 20.1% for 2016. Much of the end-of-year gains in the financial sector came as a result of the election and the possibility of financial deregulation moving forward.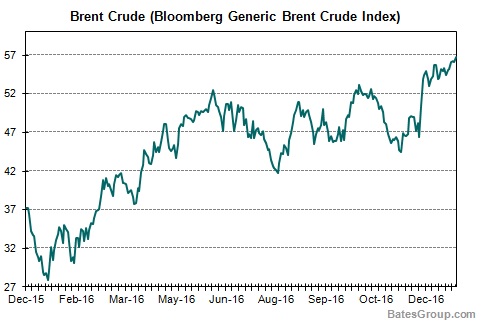 The positive equity market returns were helped along by a solid economy in 2016. The jobs situation continued to improve with the unemployment rate falling to 4.7% by December 2016, the lowest rate in nearly nine years. During 2016, nearly 2 million jobs were added, and since the beginning of the current economic recovery in 2009, over 11 million jobs have been added. This solid job growth fueled improved consumer confidence, which in turn helped drive increased consumer spending. As a result of the solid growth in consumer expenditures (up 2.5%), the U.S. economy grew at an estimated 1.9% annualized rate in the fourth quarter. However, this was a deceleration from the third quarter's 3.5% annual rate as a widening trade deficit (increased imports and decreased exports) dragged growth down by 1.7%. Inflation remained tame during the past year, with the Consumer Price Index (CPI) up just 2.1% in the 12 months ended December.
What do you think? Follow us on LinkedIn or Twitter to join the conversation!