Bates Research - 12-07-16
Personal Liability for Compliance Professionals II

By Geoff Winkler, Fraud and Forensics Practice Leader
This is the second installment in a three-part series discussing personal liability for compliance professionals. Last week we looked at the growing trend of regulatory enforcement activity against compliance professionals and the perception within the compliance industry of increased personal risk. This week we will take a look at regulators' perceptions of their enforcement activity and what this trend might mean for compliance professionals moving forward. Next week we will take a look at the impact this is having on the industry and the steps some CCOs are taking to minimize their personal liability.
Are Regulators Increasing Their Focus on Compliance Professionals?
Despite the recent narrative and enforcement action, regulators continue to insist that they are not increasing the level of enforcement activity against compliance professionals. Instead, they are trying to assist compliance professionals by encouraging organizations to focus resources on improving their compliance programs and discouraging risky behaviors.
There are a number of regulators, however, who are beginning to recognize that, despite their intention to assist compliance professionals, the opposite message is being received. SEC Commissioner Luis A. Aguilar, in a June 29, 2015 public statement entitled The Role of Chief Compliance Officers Must Be Supported, stated:
"While I respect the views of my fellow commissioners, based on what I'm hearing from the CCO community, the dissent, and the resulting publicity, has left the impression that the SEC is taking too harsh of an enforcement stance against CCOs, and that CCOs are needlessly under siege from the SEC. Thus, I am concerned that the recent public dialogue may have unnecessarily created an environment of unwarranted fear in the CCO community. Such an environment is unhelpful, sends the wrong message, and can discourage honest and competent CCOs from doing their work."
Commissioner Aguilar also points out that, despite the perception among compliance professionals, "the Commission has brought relatively few cases targeting CCOs relating solely to their compliance-related activities. In general, the Commission's enforcement actions against CCOs ebb and flow with the number of cases brought against investment advisers and investment companies." This sentiment seems to hold true when reviewing the number of enforcement cases brought against CCOs compared to investment advisers and investment companies.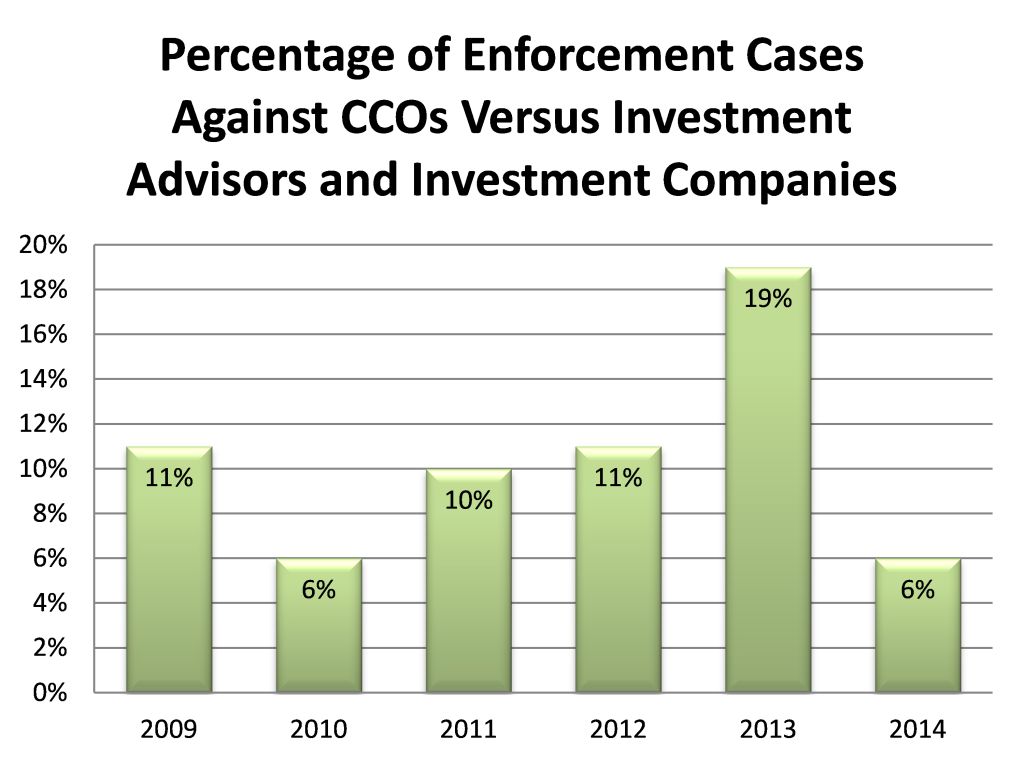 (source: Aguilar, L. The Role of Chief Compliance Officers Must Be Supported, 2015)
Additionally, Commissioner Aguilar also points out that "the vast majority of these cases involved CCOs who 'wore more than one hat,'" and many of their activities "went outside the traditional work of CCOs" or "involved compliance personnel who affirmatively participated in the misconduct, misled regulators, or failed entirely to carry out their compliance responsibilities."
This same sentiment was also echoed by SEC Commissioner Daniel M. Gallagher, in an August 4, 2015 speech to the U.S. Chamber of Commerce, when he said:
"…we need to be constantly reminded of the importance of being measured and thoughtful in exercising our enforcement authority. For example, throughout my tenure I have repeatedly called on the Commission to tread carefully when bringing enforcement actions against compliance personnel, who are often the only line of defense we have in detecting and preventing violations of federal securities law. Recent enforcement actions holding compliance officers to a standard of strict liability will only serve to chill talented professionals from playing this vital role."
Despite these assurances, the perception in the industry is that instances of personal liability for compliance professionals are increasing.
Next week we will take a look at the impact on the industry and what some CCOs are doing to minimize their own personal risk.
What do you think? Follow us on LinkedIn or Twitter to join the conversation!
This blog is provided for informational purposes only and not for the purpose of providing legal advice. You should contact an attorney to obtain advice with respect to any particular issue or problem.