| 05-18-21
Bates AML and Financial Crimes: In Brief - AML Resources to Support Your Professional Success
Spotlight on AML Consulting Expert David F. MacNair
Helping companies manage AML Surveillance, Investigations and Fraud Prevention
David MacNair is a Bates consultant and recognized subject matter expert in Anti-Money Laundering (AML), Financial Crime, and Securities Market Abuse matters. His career spans more than 30 years in the brokerage industry, where he began as a sales practice and net capital Examiner for FINRA (NASD). David held a number of Legal & Compliance positions at Prudential Securities and subsequently at Smith Barney, where he conducted sales practice surveillance and later managed the AML Surveillance, Investigations, SAR filing and Fraud Prevention program. David was most recently the Director of Financial Crime Surveillance & Investigations at Credit-Suisse, covering the U.S Broker Dealer, Credit-Suisse AG New York and Cayman Island bank branches. He is a member of the Association of Certified Fraud Examiners and consults with companies to manage AML surveillance, investigation and fraud prevention. He is also available to testify in hearings.
Educate and Motivate Your AML and Financial Crimes Staff with Corporate Training from Bates and Innova Learning
Bates Group teams with Innova Learning to train and consult financial services firms and their counsel.
Watch the Trailer for "The Three Stages of Money Laundering"
Keeping your staff one step ahead of bad actors and regulators—Bates-Innova Training will help you achieve this. Our customizable course fits your needs by adding links to your policies and procedures, specific cases studies relevant to your business, and client-designed knowledge checks and testing. Watch this fun AML trailer and give us a call to discuss.
Stay on Top of New AML Developments with Complimentary, On-Demand Webinars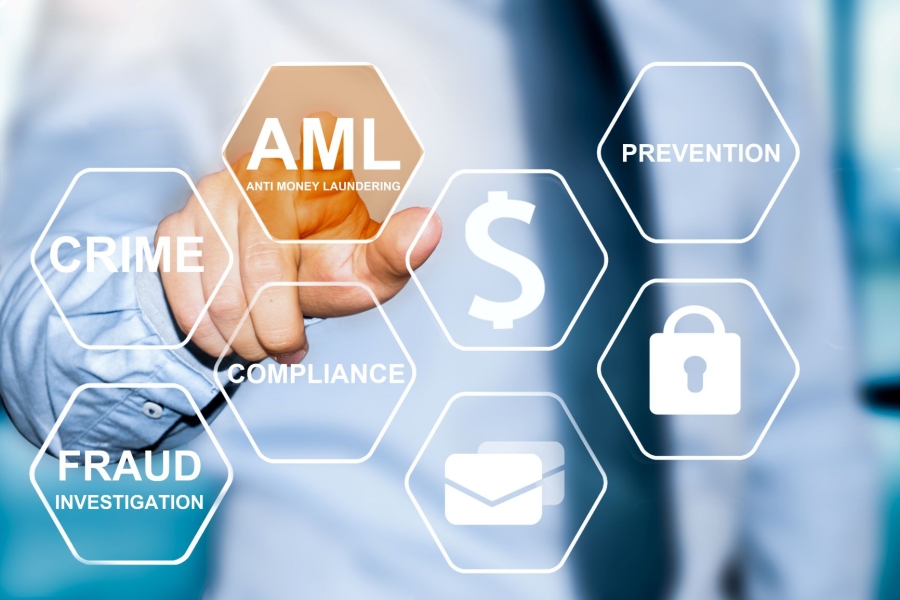 May 11, 2021 - Driving AML Program Success through AML Optimization and Data-Driven Compliance: What AML Practitioners Need to Know
Here's what we covered last week:
AML continues to be a top target of U.S regulators with millions of dollars in fines each year. Financial institutions and AML professionals are under increasing pressure now more than ever to maximize the efficiencies of their organizations while addressing AML process and procedures and the compliance requirements imposed by regulatory agencies.
At this 1-hour program, you will hear insights on managing these new realities during this time of regulatory scrutiny.
Topics:
AML Updates – U.S. Regulatory Priorities and the new AML Act
Top AML Program Deficiencies and Pitfalls We Frequently See
Best Practices for Tuning Your AML Program – Why You Need to Adopt These Today
Data-Driven and AI Solutions to Achieve AML Operational and Regulatory Compliance
Presented by Bates AML and Financial Crimes with our partner Complidata.
Watch the On-Demand Replay of this Program
In the News
AMLA Webinar - April 28, 2021
On April 28th, Bates AML and Financial Crimes Managing Director Edward Longridge was a featured speaker on the panel, "What Does the New AML Act of 2020 Mean for Your Organization?" co-hosted by Bates and Nice Actimize. The global audience learned what this pivotal new law and changes mean for Financial institutions in and outside of the U.S. and what can you do to stay ahead and stay compliant.
Question of the Day
Q: Is it necessary to conduct an AML audit each year? Why? And how can Bates help?
A: According to AML practice leader Ed Longridge, it is a regulatory requirement to conduct AML program audits annually. As per FINRA Rule 3310 (c), you must "Provide for annual (on a calendar-year basis) independent testing for compliance to be conducted by member personnel or by a qualified outside party, unless the member does not execute transactions for customers or otherwise hold customer accounts or act as an introducing broker with respect to customer accounts (e.g., engages solely in proprietary trading or conducts business only with other broker-dealers), in which case such 'independent testing' is required every two years (on a calendar-year basis)."
The highly experienced auditors of Bates AML and Financial Crimes can assist by performing your AML audit for you. We can also perform off-cycle gap assessments of your AML program, for example in preparation for a regulatory exam.
Learn More - Articles, Alerts & White Papers
Our research team publishes original content and analysis with commentary from our industry-leading experts.
Take a closer look:
Momentum Building on Cannabis: New York Passes Marijuana Regulation and Taxation Act, Congress Closer to Passing SAFE Act
AML Watch: FinCen Seeks Comments on Beneficial Ownership Reporting, SEC Issues Alert on SARs Compliance Deficiencies and Guidance
The AMLA Act: Significant Changes to Anti-Money Laundering Framework Enacted into Law
White Paper: The Anti-Money Laundering Act of 2020 and the Shifting AML Framework
Dennis Greenberg, Managing Director
dgreenberg@batesgroup.com or 914-588-3965
About Bates:
Bates AML and Financial Crimes helps its clients meet their AML/FC obligations through experience, resources and ongoing guidance. We work within the U.S. and internationally, with a European partner firm offering artificial intelligence and AML optimization for projects. Bates is a practitioner-led firm, consisting of former Chief AML Officers and Chief Compliance Officers, former regulators and practicing attorneys, Risk Management Officers, as well as data and technology specialists, delivering exceptional results on a cost-effective basis.
Our AML and Financial Crimes services include:
AML gap assessments and audits
BSA/AML and OFAC risk assessments
AML program design and implementation
Customer risk model design, tuning and implementation
KYC system design, testing and implementation
AML transaction monitoring and sanctions system tuning, testing and new platform implementation or existing platform upgrades
Staffing support for KYC, name screening, transaction monitoring backlogs and lookbacks
Model validations
Coverage assessments
Artificial Intelligence & Big Data analytics support
Independent consulting review for AWC or other regulatory response
AML and Financial Crimes testimony
AML and Financial Crimes corporate training