Bates Research | 04-15-21
Momentum Building on Cannabis: New York Passes Marijuana Regulation and Taxation Act, Congress Closer to Passing SAFE Act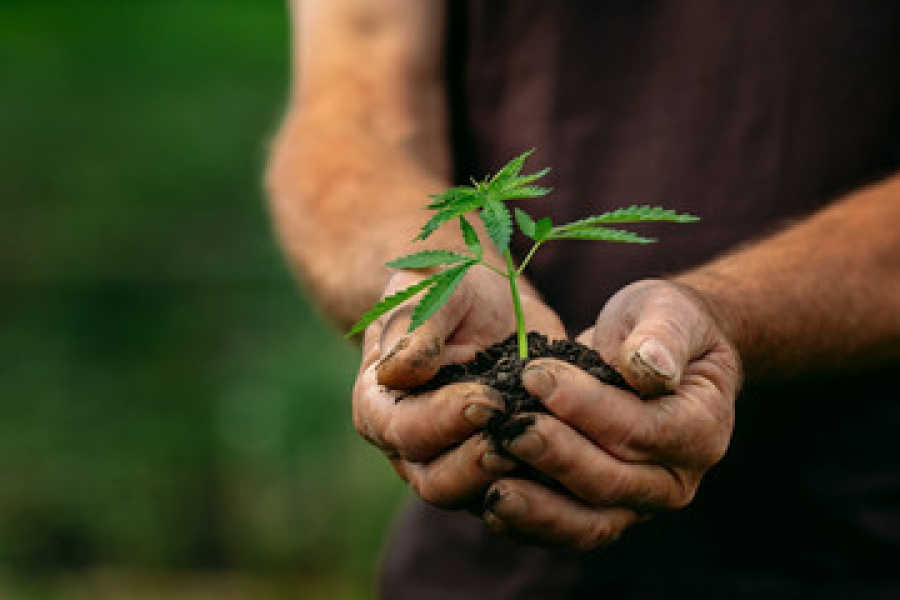 Federal and state legislation to legalize cannabis and regulate related businesses moved forward this month with a bipartisan reintroduction of the federal Secure and Fair Enforcement ("SAFE") Banking Act and the passage of a New York law creating a regulatory licensure and taxation framework for producers, distributors, and retailers of marijuana. The implications of these actions are significant. If enacted, the SAFE Act would accelerate the growth of the cannabis industry by ensuring access to financial services for related businesses.
Meanwhile, the passage of the New York State law legalized marijuana for adult use and created a new framework for regulating the production and sale of cannabis. Further, the new law is ambitious containing provisions to address "social and economic equity" issues in order "to assist individuals disproportionately impacted by cannabis enforcement that want to participate in the industry." In this article, we look at the New York law and revisit the bipartisan SAFE Act, two efforts that cover the spectrum on cannabis regulation.
New York Marijuana Regulation and Taxation Act
On March 31, 2021, New York Governor Andrew Cuomo signed into law the Marijuana Regulation and Taxation Act ("MRTA"). The law legalizes adult-use recreational marijuana for cultivation, processing, and sale in the state of New York. The law cites multiple goals, among them: (i) to regulate, control, and tax marijuana; (ii) to generate new revenue for the state; (iii) to invest in communities impacted by cannabis criminalization; (iv) to "make substantial investments in communities and people most impacted by cannabis criminalization"; (v) to "address the collateral consequences of such criminalization"; (vi) to prevent access to cannabis by those under the age of twenty-one years; (vii) to reduce the illegal drug market and reduce violent crime; (viii) to create new industries; (ix) to protect the environment; (x) to improve the state's resiliency to climate change; (xi) to protect the public health, safety and welfare of New Yorkers; (xii) to increase employment; and (xiii) to strengthen the state's agriculture sector. The Governor stated that the development of an adult-use cannabis industry "has the potential to create significant economic opportunities for New Yorkers" (estimates range from 30,000 to 60,000 jobs) and that "[t]ax collections from the adult-use cannabis program are projected to reach $350 million annually."
Specifically, the MRTA creates an Office of Cannabis Management to set cultivation and processing standards, issue licenses to businesses in the production and distribution process, conduct inspections, and enforce the "comprehensive regulatory framework governing medical, adult-use cannabinoid hemp." The law establishes a new tax structure including a nine percent state excise tax and a local excise tax of four percent of the retail price. Taxes are to be deposited in a special cannabis revenue fund and apportioned for education, community grants (to address social and equity issues), drug treatment, and public education. There are additional provisions for municipal opt-outs for local dispensaries, traffic safety, criminal penalties and records expungement, workplace safety and public health.
The Federal Landscape
New York's Marijuana Regulation and Taxation law adds considerable pressure on Congress to pass legislation to allow legitimate cannabis-related businesses and service providers access to the financial system.
Some 36 states have legalized marijuana for either medical or recreational adult-use purposes. The American Bankers Association ("ABA") argues that current federal law prohibiting cannabis financial activity from entering the banking system "is marginalizing a significant portion of economic activity in legal cannabis states and forcing the creation of an all-cash economy." The consequence is an industry which is difficult to regulate in terms of taxes and financial activity and is outside the federal anti-money laundering regime. According to an ABA survey, "99 percent of bankers said Congress should act to resolve the conflict." (See also ABA letter to Senate banking Committee Co-Chairs.)
As evidenced by the goals articulated in the New York law, there are numerous considerations beyond accessing the financial system and reducing the reliance on and amount of cash for these businesses. These considerations can be found in other congressional initiatives and are currently championed by Senate Majority Leader Chuck Schumer, who stated that he is prioritizing a more comprehensive approach—decriminalization and minority small business investment reform—and by Judiciary Committee Chair Jerrold Nadler, who said he would reintroduce the "Marijuana Opportunity Reinvestment and Expungement Act" ("MORE Act") to remove cannabis from the list of federally controlled substances. (See previous Bates' article here). It is unclear at this time whether issues addressing access to the banking system will stand alone legislatively or will be folded into something broader.
Explore Bates Group's AML/BSA Services
The SAFE Banking Act
The bipartisan SAFE Banking Act would create a safe harbor for depository institutions that provide banking services to state-licensed cannabis businesses. Like the earlier version of the SAFE Banking Act, which passed the House of Representatives in 2019 but fell short in the Senate, proceeds from state-licensed cannabis businesses would not be considered proceeds from illegal activity. This means that these loans, and collateral provided by financial institutions, are effectively protected from Anti-Money Laundering/ Bank Secrecy Act ("AML/BSA") laws and the risk of asset forfeiture.
Among other provisions, the SAFE Banking Act would: (i) prohibit regulators from taking adverse or corrective supervisory action on loans made to cannabis businesses; (ii) protect from criminal, civil and administrative forfeiture any loans or other financial services provided to cannabis businesses or owners of real estate or equipment leased or sold to them; and (iii) impose new obligations on FinCEN to provide guidance for financial institutions that provide services to cannabis businesses. Under the bill, businesses that provide financial services to a depository institution (e.g. money transmitters) are protected, as are insurance providers that write deposit insurance policies for legal cannabis businesses.
Unlike the 2019 version, the new SAFE Act requires federal banking regulators to update guidance on their AML/BSA obligations on hemp. (See also Bates article on AML Suspicious Activity Reporting and hemp.) This revision may be likely to attract additional congressional support. Further, the new SAFE Act made revisions to the definitions of financial services to include services or products that can be provided by federal credit unions. (See 2018 Memorandum by the NY Department of Financial Services on "the provision of financial services to medical marijuana and hemp-related businesses in New York State." The guidance suggested that state-chartered banks and credit unions "consider establishing banking relationships with medical marijuana-related businesses.")
Conclusion
The passage of the New York legislation legalizing marijuana for adult recreational use, combined with the Democratic control of Congress is making the passage of the SAFE Act more likely than in the past. The only real question is whether the Senate and House Democratic leadership will press their advantage and attempt to pass a broader, more comprehensive bill that addresses additional issues including decriminalization and related social issues. Majority Leader Schumer tweeted, "Congress should not enact banking reform alone and think the job is done." Bates will keep you apprised as these and other legislative developments play out.
For additional information, please follow the links below to Bates Group's Practice Area pages:
Bates AML and Financial Crimes
Regulatory and Internal Investigations
Consulting and Expert Testimony
Retail Litigation and Consulting